Our fishing charters Orange Beach Alabama give the best opportunity to catch some pole-bending fighters. A memory you'll take home forever!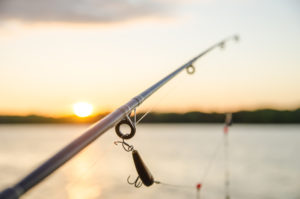 Call today to book with Blue Water Charters at (251) 259-2644
Tourists from all over visit Orange Beach and Gulf Shores for its wealth of natural beauty, historic sites and resorts. However, one of the area's greatest attractions is not on land, but rests in the surrounding waters which are home to a world-class sport fishing industry.
If the lure of fighting a big fish with a rod and reel (and hopefully winning!) sounds like fun then we are ready to take you out where the water is beautiful and the fish are big.
Here some of the area's most plentiful year round fish species are caught by our premiere fishing charter. They are unforgettable, pole-bending fighters and we know where to find them. You'll be impressed with the sport fishing experience our fishing charter options in Orange Beach Alabama can provide to you and your party.
You'll Catch the Best on our Fishing Charter Orange Beach Alabama
We commonly catch these year-round species including:
Amberjack

Grouper

Seatrout

Snapper
No matter when you fish or whether you fish inshore or offshore, catching is never a problem. Although peak season for King Mackerel is August – September, we do have good luck catching this species from April – October. Also Spanish Mackerel, always fun to catch, are mostly available March – September. Take a look at our Fishing Charter Packages for a listing of the most likely species you'll find.
We Aim to Make Your Experience Memorable
Our extensive experience in fishing around Orange Beach has equipped us with unique knowledge in pursuing and catching trophy fish of various species. Our fully-equipped vessels accommodate any level of fisherman, and we provide all the gear and bait you'll need for a successful trip. Blue Water Charters offer a wide variety of fishing package options. You are sure to find one to fit your schedule as well as your desires. Offers from 3 hour excursions to 8 hour all day fishing trips are available. Plus, if you want to go out at night for a whole new experience you can book a night trip.
Every excursion also offers the opportunity for you to witness unique sea life and picturesque views of geographically-rich Orange Beach – so bring your favorite camera! Whether you are searching for a deep-sea prize that's hundreds of pounds or a school of nimble fighters that provide hours of action, our charter offers something for everyone.
Call Blue Water Charters at (251) 259-2644  Book your charter today!