By booking Blue Water Charters, you can count on your fishing guide in Perdido Key Alabama for an adventure to remember. You're on vacation, so relax and let us guide you for a great day of catching fun fighting fish on the beautiful waters around Perdido Key Alabama. Leave the work to Blue Water Charters and come along for some adventurous fun!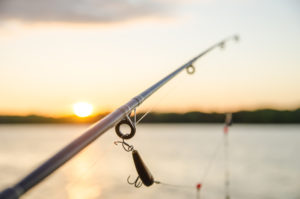 One of the most memorable adventures you can ever take in Perdido Key Alabama is a guided fishing trip. Whether you're an urban dweller or an outdoor enthusiast you'll appreciate the fishing excursion on the Gulf of Mexico. With the right fishing guide, you only need to focus on getting that big catch. Here are some benefits of fishing with a professional guide.
Takes you where the fish are
Without a guide, you'll be lucky to spot the fish. Fishing is all about catching new species and making every trip unique. Even if you've been off-shore fishing before you embark on your trip, you'll learn countless lessons from a guide. This also means you won't have to worry where all the bites are. And if you already know the species of fish you want to catch, the guide will take you to that location.
You'll learn new fishing techniques
Most guides have many years under their belt. Whether you want to hone your skills or learn something new, the guide will teach you a thing or two. Because they have acquired extensive knowledge you can learn the correct way to work on the lures. Obviously, fish respond to shape, color and movement. If you throw a lure that resembles what they are eating, you'll catch some fish. Even if you're a novice fisherman, the invaluable tips from the guide can help you hone your skills.
Someone else handles your plans
The guide takes all responsibilities on the fishing trip – packing the gear, bringing supplies, taking you to the best fishing spots, and more. All you have to do is show up for the trip and listen to the instructions. While you can bring your gear, the guide will have everything you need. And with amenities like radio, safety gear, and more, you can escape the reality on your fishing adventure.
A perfect way to bond with co-workers, friends and family
There are a lot of reasons to try a guided fishing trip. Apart from taking you from city life, it allows you to bond with friends and family members. If you have children on board, the guide will be helpful in teaching them a few things about fishing. With careful planning, you can create an enjoyable trip for your family that will remain in their memories for many years to come. The best part is that someone else will take care of your excursion as you enjoy each other's company. Here are a few things that will help you plan your expedition:
Decide when to go

Ask the guide on what gear to bring

Species to target

Allow plenty of time for fun
Final thoughts
Take a look at the packages offered and just know that Perdido Key Alabama is a great place to have fun with your co-workers, family and friends. The waters offer some of the best fishing spots. With the help of a fishing guide, your excursion can yield catches such as speckled trout, Spanish mackerel, bluefish, redfish, cobia, and more. Check out our fishing calendar to see what's biting. Whether you're a beginner or an experienced angler, make sure you get a professional guide.
Book a professional fishing guide in Perdido Key Alabama