Ready to get out on the water? Blue Water Charters in Gulf Shores Alabama is an inshore fishing charter suitable for all ages and abilities. Read on below to learn some tips to help choose the best inshore fishing charter to allow for a great day of catching fish!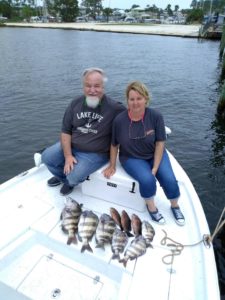 If you're looking to have a great day on the waters of Gulf Shores Alabama, you'll want to enlist the services of an inshore fishing charter. Whether you're a beginner or a seasoned fisherman, the trip can be customized to suit your needs. Here are a few things to consider before hitting the water:
Choose an experienced fishing guide
It's a good idea to hire a fishing guide service to increase your opportunity to experience a big catch. First, you should do your homework by learning about available guides in the area. Don't let fancy brochures fool you – take time to talk to the guide service. Feel free to ask all of your questions.
Here a few things to take into consideration:
What does the rate cover?
Confirm the departure and arrival time

Inquire how long the guide has been on the fishing area

What will they supply?

Raise questions on cancellation policy
Group size
Usually, inshore fishing charters are offered by small charter boats that fish in and around the estuaries of Gulf Shores Alabama. Therefore, they have smaller capacity than some larger vessels. On average, a boat can carry up to 6 people comfortably. The number will be determined by how long and where you want to fish. There is always a limit on the number of people a boat can handle. To be sure, you'll want to get firsthand information from the charter.
Determine your budget
This can be the biggest factor to consider when booking an inshore fishing charter. You want to get the best deal possible. Yet, while there is always a temptation to for the cheapest option, you want to use a charter that gives value for your money. The price is determined by the number of people, time length of the charter, size of the boat and the type of fishing. Additionally, check for any specials that could save you some money.
Private or shared charter
A private charter is where only your group and the captain will be on board. The fee is based on the number of hours you hire the boat. For shared expense charter, you share the boat with other people. Thus, the prices are based on per person charge. Of course, you want to find an experienced captain with a comfortable vessel for the best fishing opportunity.
Trip duration
Most inshore fishing charters take you out for 4-6 hours of fishing. The length of your trip is up to you to choose. A longer trip may be ideal if you have the time. Also, make sure you get the latest seasonal fishing information.
Inshore fishing charters are perfect for novice fishermen, families, or anyone who prefers to stay close to the shore. Whether you are a beginner or an experienced angler, you'll want a fun adventure that includes catching some fish.
Blue Water offers the best inshore fishing charter
in Gulf Shores Alabama